Additional content on up-to-date media
****
The recent release of a new song by Steven Wilson, Anyone But Me is an opportunity to review some of the recent bonus material and B-sides associated with his top 5 album THE FUTURE BITES™
Update – June 2021 – the Scottish rock-band have remixed Personal Shopper, turning it into a rock anthem.
The B-Sides Collection
1 Eyewitness
Steven Wilson has often spoken about growing up in a household in which his father listened to Pink Floyd and his mother listened to the disco music of Donna Summer, and this track begins with an instrumental homage to the latter's 1977 song 'I Feel Love'. Both tracks open with a burst of noise, followed by sequenced synthesisers on the same note (c). But whereas Donna Summer's disco epic runs at a fairly stately 120 bpm, Steven Wilson's propulsive song powers along at around 150 bpm. There is an obvious debt to the classic disco of Giorgio Moroder, but Steven Wilson adds an urgent modern take to 1980s style synth-pop. As usual, the production is very imaginative – listen to the middle eight (repeated) at around 3.30 into the track, when the driving instruments drop out and there is a sudden moment of tenderness in the vocals.
The theme of the track is one that Steven explored in detail with Porcupine Tree on their 2007 classic Fear of a Blank Planet, the failure of many people to engage with life, preferring to remain drugged up and passive, 'Now take your meds and stay in bed/It's all gonna happen to you anyway.'
2 In Floral Green
The first cover that Steven Wilson has released since his 2014 album Cover Version, this song was written by John Mitchell (leader of prog/pop band It Bites since 2006) and released in 2017 as part of his solo project Lonely Robot. John told Prog magazine that the song was about the loss of social connection in the modern world, and that, 'we as a species probably need to be around a lot less drab grey and a lot more rustic green'.
Unusually, Steven Wilson approached John Mitchell for permission to use the original backing tracks for the song rather than creating his own, which is why the two versions sound very similar. Steven told Rob Skarin that, 'it felt like my song'.
Both versions use spoken word extracts from the speeches of the British writer, Alan Watts, whose writings helped introduce Buddhism, Taoism, and Hinduism to a wider Western audience. John Mitchell told Grant Moon of Prog magazine that Watts was, 'a great advocate of this idea of, 'the solipsistic haze' – that are we all a part of somebody else's imagining, that life is a great conspiracy, a grand design, a dream.'
3 Move Like a Fever
A fiercely electronic track, uncompromising in its presentation and message, this song follows the theme of the effects of social media and empty fame on modern life that is so important on the FUTURE BITES album. The vocals are almost brutal in their delivery on lines such as, 'The American idol/Is dead on arrival.' Some fans have baulked at this new directness in Steven Wilson's work, far from the loving, meticulous recreation of 1970s prog on The Raven That Refused to Sing (2013), but it is undeniably effective. As always, he moves forward in a way that is truly progressive, not worrying about alienating some of his fans whilst satisfying others and finding new ones. As he told Electronic Sound magazine, 'I recognise that I've repeatedly shot myself in the foot by doing the thing that was least expected.'
4 King Ghost – Tangerine Dream Mix
A radical remix of the track from THE FUTURE BITES, over twice as long as the original, expertly done by Thorsten Quaeschning and Paul Frick, both of whom are in the current incarnation of Tangerine Dream. Although they were only a few years old during the 1970s, the period that many consider the most productive and innovative of the band, they manage to recreate a superbly authentic version of Tangerine Dream from that era. The relevant section begins around three minutes into the track, until around 7.30 when it wittily grinds to a brief halt. The Tangerine Dream section is bookended by a few minutes that take material from the original track, taking Steven Wilson's haunting, stratospheric falsetto vocals as a theme, but never allowing the vocals to break through fully, creating a magical new track.
Single – Anyone But Me
This gorgeous song was a very last-minute casualty of COVID-19. It was due to be released as the final track of THE FUTURE BITES. The album had even been mastered and cut, but as Steven Wilson says on his YouTube channel the delay in the album's release caused by the pandemic gave him a chance to re-evaluate. The record was eventually released several months later but the song had been replaced with the, 'more laid back and atmospheric' Count Of Unease.
A demo of the song was released as part of the Limited Edition Deluxe Box Set of the album on 'obsolete media' (cassette; although sales of cassettes have increased recently). The song features Fyfe Dangerfield from Guillemots on lovely ELO-style backing vocals.
Single – Personal Shopper (Nile Rodgers remix)
On his YouTube channel Steven Wilson says he grew up listening to disco, including the music of Chic, featuring Nile Rodgers so, 'it's an absolute thrill to have Nile stamp his legendary signature sound on the track.' This version of the song combines the European electronic pop of Giorgio Moroder with Nile Rodgers' funky guitar, emphasising the disco elements and placing less emphasis on the pensive melancholy of the original from the FUTURE BITES album (review here).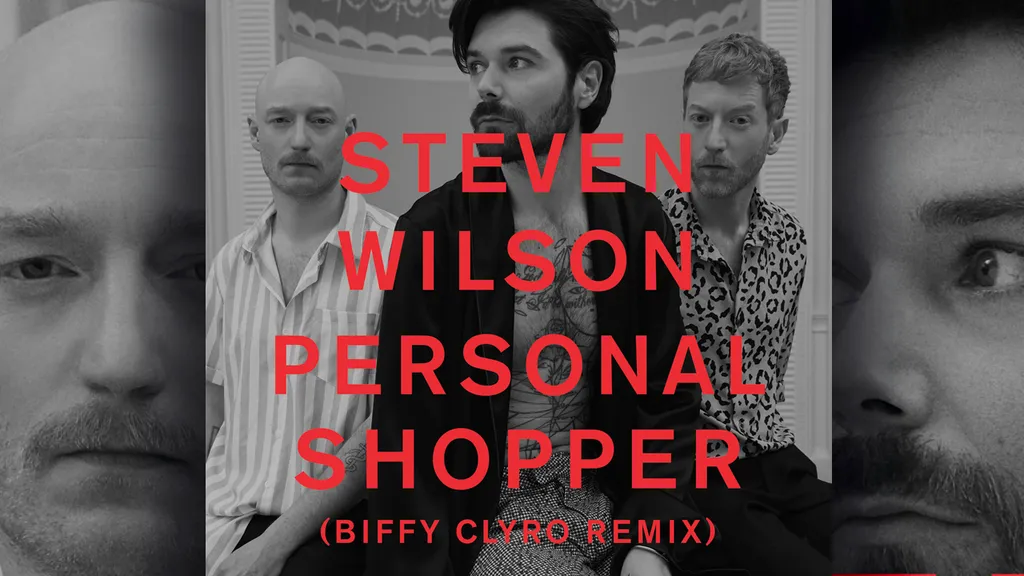 Single – Personal Shopper Biffy Clyro Remix
Biffy Clyro's remix of this largely electronic song opens with a ethereal vocals and a mesmerizing drone, with a new percussion track and heavy guitars that transports the song to an unexpected world. The almost clinical disco of the original track is replaced with driving, dirty distortion. The melancholy, anti-consumerism message of the original song now becomes urgent.
Towards the end of the song, where the Elton John voice-over appears, a fierce, almost metal-like riff kicks in, sounding like some of the heavier Porcupine Tree riffs. As Steven Wilson says on his YouTube channel, 'Perhaps one for those that missed hearing the guitars in my recent music!' It allows shows that a great song is open to multiple interpretations; both the original and the cover version are superb.
Bonus Review – Key of Skeleton
It seems appropriate that a review of bonus tracks should include a bonus review. This is a demo track that recently appeared on streaming services as part of the Super Deluxe edition of Steven Wilson's 2015 album Hand.Cannot.Erase. This instrumental track begins with keyboards and strings similar to those at the start of I Am The Walrus from the Beatles' 1967 double EP Magical Mystery Tour. Muscular drums soon join in, with a pleasantly 1960s feel to the guitar. The song has that feeling of inevitability that some of the best instrumental tracks have, until it is nicely subverted towards the end when it takes a dark turn. A hidden gem in Steven Wilson's extensive discography.
Sources:
Steven Wilson's YouTube channel
Martin Kielty, Lonely Robot release In Floral Green video, Prog Magazine
Rob Skarin, THE FUTURE BITES: A Conversation With Steven Wilson, YouTube
Alan Watts, The Power of Space Part 4
Grant Moon, Lonely Robot: Space-themed exploration and sonic sounds, Prog Magazine
Mark Roland, An Article about Steven Wilson, Electronic Sound Magazine, Issue 73