When I think of Sir Stephen Cleobury who has just died my image of him is conducting the service of Nine Lessons and Carols from King's College Cambridge on Christmas Eve.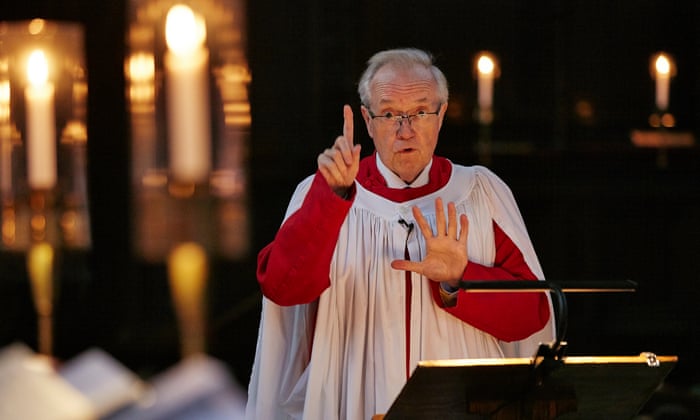 © Kevin Leighton/King's College, Cambridge
The festival of Christmas was central to my relationship with my Father who died twenty-five years ago. I always used to listen to the Nine Lessons with him.
I wrote this piece some years ago but I haven't published it until now…
A Child's Christmas
It's Christmas Eve and Durham cathedral is full. We got there early for the carol service but we're still stuck behind the widest pillar. We can't see the choir singing the carols but it doesn't matter. The lights go out and the choir comes in with candles. The sweet solo voice sings the first verse of Once in Royal David's City, just as in the opening of the service of Nine Lessons and Carols from King's College Cambridge.
The years roll back and I am with my Father again.
He always insisted we call him Father, not dad. We once played cricket with him in the park and two young urchins came to join our game. Cheekily, they called him Father Dear Father, mocking my use of the word. I hadn't realised until then that his title was archaic. Later, when I was away at university, he wrote me letters and notes always signed just F, short for Father.
When I started to sign my letter simply with a letter N for Nick, my friends complained that this felt cold. Couldn't I be bothered to sign my full name? But the simple F at the end of my father's letters always seemed warm to me, a private, intimate code.
To others, he signed himself JCH, short for John Charles Holmes. He was the choir master of the local church and I was in his choir. The choir boys bought him a leather music case engraved with his initials. He carried it with him to every choir rehearsal. It got more and more battered, but you could still see the black letters JCH engraved on it.
I remember my Father walking home from church with me, carrying his music case as we discussed our visit to the local maternity hospital to sing Christmas carols. We went every year, to sing a carol service in the hospital small chapel. Then we came back to church to put away the robes we had worn for the carol service.
The choir vestry was a cellar beneath the church. We unloaded the robes from ancient suit cases and hung them up on long rails. We climbed back up the stone steps to the side door of the church and locked it with a heavy key. Then a shortcut across the grass to vault over a low wall, checking first that the Reverend Canon Ronald James Birchett – RJB – wasn't watching.
RJB had been an army captain and took a dim view of civilians who took shortcuts across his churchyard. My father was in awe of RJB but they shared a deep belief in the true meaning of Christmas.
RJB is central to my childhood memories of Christmas Eve. He was tall, broad, proudly strong. His voice was deep and his face was sculpted from granite. So when this proud man went down on his knees to utter the words which marked the birth of Christ, the packed church was silenced by his humility before God.
After that, we choirboys could relax a little. We knew Jesus was about to be born and so Christmas presents were on their way. Midnight Mass actually started at 11:30 at night so there was a silent countdown until midnight came. Christ's birth on the dot of midnight was marked by choirboys grinning and cheering silently across the choir stalls, always making sure RJB couldn't see our celebrations.
So the service ended for another Christmas Eve, and my father greeted each choirboy with a cheerful happy Christmas and a box of chocolates.
Christmas Day itself almost seemed less important to him. Christ had been born, so the pagan rituals of exchanging presents, eating turkey and watching the Queen's speech meant little to him. One year, he even forgot to buy me a Christmas present until my mother reminded him and he ran to the shops to buy something before they closed.
My father died 25 years ago and I don't think about him every day now, although at the time I vowed I would. But he is still a part of me and at Christmas I feel particularly close to him. I said this to my wife as we were coming out of Durham Cathedral on Christmas Eve. She replied it was natural for me to remember him more at Christmas, because it was his time of year.
Postscript
Leo Hussain @conductorleo wrote the following tweet about Stephen Cleobury on 23 November 2019, but it also perfectly describes my Father
He wasn't affectionate, but you knew he cared deeply about you. As a musician, he was rigorous, disciplined, loving, had huge integrity and the highest standards. I couldn't do what I do now without him.