Devin Townsend
Haken (support)
Albert Hall, Manchester
Tuesday 10 December 2010
Devin Townsend *****
Haken ****
A deluge of Biblical proportions hit central Manchester in the early evening on Tuesday. Devin Townsend promised us a brief escape from torrential rain and the torrent of political uncertainty outside.
Haken stood proud, two of them poised like medieval warriors about to draw their bows and fire a torrent of arrows. To their right stood their bass player, nodding his head benevolently. The drummer never played a simple beat when a more complex offbeat, syncopated groove could be used instead. I had been warned that they would be proggy. They were.
I remember interviewing another prog hero, Peter Hammill, about his hit records. His response was 'What hits?!' Haken, equally modest and equally talented, announced Cockroach King as the nearest they have had to a proper hit. It's actually an amazingly inventive song, a worm that crawls though from one ear to the other and leaves a trace for days. They sang and played it beautifully, the highlight of a short but accomplished set. Next time they should headline – they humbly said that they thought nobody had heard of them, but the fact that the hall was almost full for a support band shows that many of us have.
Devin Townsend told us that he was going to take us on a vacation and he and his band began wearing Hawaiian shirts and drinking cocktails. And he began with a jolly, jaunty ditty, Borderlands to get us in the party mood
I desire a good life/Gotta have a good good life
Got a little doggie and he's full of the woof woof!
In fact, feline rather than canine cartoon characters dominated the video screen behind him, cheerfully kitch images to match the music.
But don't underestimate him – behind the party image lurks a restless, unsettled, highly intelligent musician. The music was constantly moving, themes intertwined like the live snakes that writhe in Medusa's hair.
The gig was more like a stage musical or a theatrical experience than just a concert; each of the four Acts was clearly marked by costume changes of the superb backing singers Samantha and Anne Preis, and Arabella Packford. They began wearing colourful skirts, then all back tops and trousers, then floaty evening dresses and finally long evening black evening dresses. Each costume change marked a new musical chapter. The dark, twisted metal of Gato and Heaven Send transformed into the most moving song of the gig – a lovely, quietly contemplative version of Spirits will Collide, one of the highlights of the evening.
Singer and guitarist Ché Aimee Dorval, matched the outfit changes of the backing singers, at one point appearing dressed like the fairy on the top of a Christmas tree. Before you accuse Devin of sexism, he himself appeared wearing a diaphanous skirt and voguing about the stage.
The ten piece band were superb – Devin himself, the four singers, two guitarists, a bass player, a drummer and a keyboard player who looked remarkably like the keyboard player from Haken. Before the gig, I was worried that they wouldn't be able to recreate the epic bombast of the studio albums. I was wrong.
So what about Devin himself? Sometimes with his wild eyes and shaven head, he looked like the Hungarian conductor Sir Georg Solti , who was known as the screaming skull; both passionate, committed music-makers.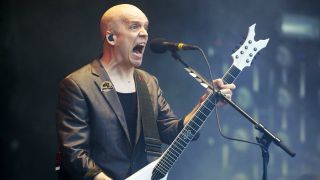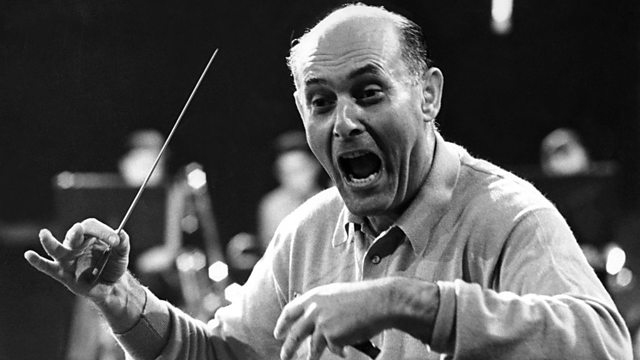 But however scary Devin may look at times his warmth, humour and empathy was always evident. He spoke movingly about depression and the humanity that inspired his latest album, Empath. And his description of that album applied to the whole concert,
EMPATH, true to the name, is about allowing the audience a feeling for a variety of musical emotions. The musical dynamics represented on this single album are broad, challenging, and immense.
Perhaps that why Devin isn't better known. He doesn't squeeze himself into a tiny box with a convenient label that says 'heavy' or 'metal' or both or 'prog', despite what you may read. Louder Sound have a better description,
Devin has created and disbanded death/thrash/industrial/absolutely perfect metal outfit Strapping Young Lad; he's done prog, pop, country, ambient and every other style of music under various guises
An example of his joyously eclectic approach was the 3-song encore
A cover of The Trammps' Disco Inferno
A cover of Frank Zappa's The Black Page number 1
Kingdom by Devin Townsend – an epic to end all epics
So ended one of the best gigs I have attended for a long time; to my left a headbanger threw himself recklessly about; to my right an enthusiast drummed on his knees and sang lustily, while I just sat there and smiled. And smiled again.
So back out again into the Manchester night. Miraculously, the rain had cleared. Thank you, Devin.